News & Press
COFFEE SUPREME MEL

March 30, 2016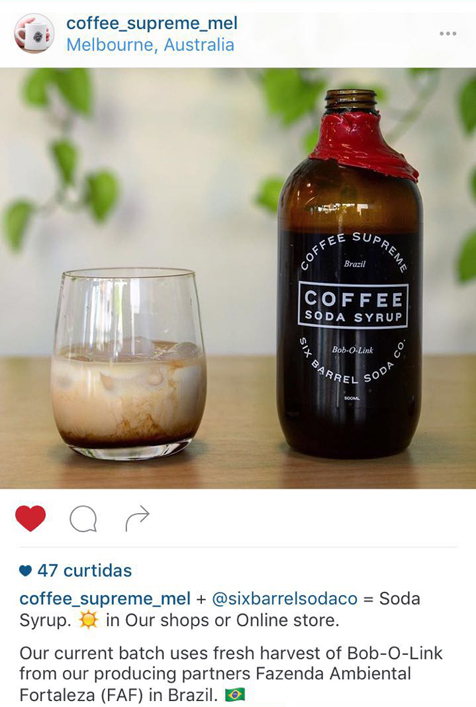 Like its territorial song in early summer, the bobolink's recent listing as a threatened species under Ontario's Endangered Species Act 2007 (ESA) is bubbling on the back burner while government officials and stakeholders, including farmers, struggle with the implications.
The designation came as a surprise to many farmers. Bobolink are still quite common in parts of the province, the males distinctive in their breeding plumage⎯light-coloured on the back and black beneath, with a patch of yellow on the back of the head. Current population estimates peg the Ontario population at 300,000 – 400,000 breeding pairs.
We usually think of species at risk as ones that are rarely seen and whose populations have declined to small numbers. By that time, though, it's almost too late for their continued survival.
Ontario's ESA aims to change all that. Its approach is to act sooner than later when there is evidence of a species under threat or in decline. The Act provides for a Committee on the Status of Species at Risk in Ontario (COSSARO) that reports to government and considers such species and recommends them for protection, where warranted.
In the bobolink's case, populations have declined over 50% in the last ten years, prompting COSSARO's recommendation for listing. COSSARO's recommendations are based on the best available scientific, community and aboriginal traditional knowledge. While the Committee does not consider social and economic consequences in their assessment, the Act does provide for socio-economic considerations.
The bobolink designation has potential impact on normal farming practices. The ESA prohibits killing or harming an endangered or threatened species, or damaging or destroying its habitat. Bobolink nest in hayfields. Timing of haying coincides directly with the peak nesting season for bobolink. This puts farmers in potential contravention of the Act.
A host of agricultural and conservation interest groups, including Ontario Cattleman's Association, Ontario Sheep, Dairy Farmers of Ontario, Ontario Soil and Crop Improvement Association (OSCIA), Ontario Federation of Agriculture, Ontario Nature, Carolinian Canada and Bird Studies Canada among others are involved in ongoing discussions to find workable solutions.
Delayed hay harvest until mid-July is not the answer. Recent research has shown that delaying the timing, and changing the frequency, of hay harvest can significantly increase reproduction of grassland birds by avoiding disturbance during their nesting season. However, there are factors of nutritional quality, yield and palatability of forage crops from the farming perspective that cannot be ignored.
Current haying practice aims for higher quality nutrition for greater livestock productivity and that requires earlier cutting. Fields of primarily alfalfa are not as attractive to bobolink for nesting due to their higher density and limited diversity; therefore the practice of earlier cutting in such fields is not a significant issue.
For farmers relying on grass hay, however, delaying harvest until mid-July, the end of the bobolink nesting season, is not a viable option on a large scale. Grass hay, especially that in longer established hayfields, is precisely where bobolink prefer to nest.
Bobolink declines are also linked to habitat loss. Fewer small herds of cattle on pasture due to recent difficulties in the beef industry, and abandonment of farms in some cases, are resulting in former hayfields and pastures reverting to shrub-land and forest.
Here's a twist though. According to breeding bird surveys, the highest densities of bobolink occur in a broad band across southern Ontario from Huron County in the west, through the Dufferin Highlands and on into Renfrew County in the east. Interestingly, this coincides with the beef industry's cow-calf belt.
Beef producer, and avid birder, Gerald Rollins of Renfrew County notes, "Ontario's cow-calf producers must be doing something right when it comes to providing nesting habitat for bobolink. As an unintended consequence of typical grassland management practices, it appears we are providing a last refuge for these grassland birds."
Jack Kyle, OMAFRA Pasture Specialist, adds, "The best scenario for bobolink may lie in modifications to rotational grazing practices. Managing rotations for blocks of ungrazed pasture at a suitable stage of growth during the bobolink breeding season could provide additional nesting habitat."
A Working Group chaired by Jon McCracken of Bird Studies Canada is already developing a Bobolink Recovery Strategy as required by the ESA. McCracken emphasizes, "The future of bobolink depends on agriculture's hayfields and pastures. Working with farmers and understanding their needs is crucial for bobolink survival."
With cow-calf producers in the best position to provide bobolink-friendly nesting habitat, but also with their own industry struggles, it becomes a case of save the farmer, save the bird.
COSSARO is considering other grassland species for designation, as well, suggesting the need for an approach that deals with not just bobolink, but with protection of grassland habitat in general.
Working together, agriculture and conservation groups have recently developed a concept for protecting Ontario's bobolink habitat, as part of a larger grassland recovery effort. This concept involves a call to government for a temporary three-year exemption for farmers as allowed under the ESA, matched with encouragement for incentive and research programs for grasslands stewardship.
The exemption would allow farmers to continue current agricultural practices without fear of liability. In the meantime, research projects and stewardship initiatives would investigate best management practices for both profitable grassland production and enhanced understanding of grassland conservation issues.
There's no question that private land stewardship is key to maintaining habitat for Ontario's wildlife, whether at risk or not. Cost-share programs in recent years, such as the Canada-Ontario Farm Stewardship Program (COFSP) and the Species at Risk Farm Incentive Program (SARFIP) both delivered by OSCIA, have encouraged stewardship and provided financial incentives and offset associated costs. Continued incentive programs are essential.
Farmers aren't the only ones who can help. Encouraging non-farm rural landowners to leave suitable areas in grassland rather than allowing conversion to forest is another avenue. Public lands, such as Conservation areas, parks and open space, also hold potential for creating grassland habitat.
In the end though, farm businesses hold the key for ensuring the continued presence of bobolink and other grassland species. The challenge is in finding ways of sharing common ground.
This month, we are pleased to introduce you to Brazil Bob-O-Link, a single estate coffee from the Zani family's small farm in the Mogiana region of Brazil. The Zani family has produced an exceptional crop of specialty coffee this year using varietals whose fruit ripens to a bright yellow color. We hope you have the opportunity to try a cup of these very limited Yellow Catuai and Yellow Icatu beans that we have roasted right here in New England.
Brazil Bob-O-Link is the result of a coffee project pioneered by Fazenda Ambiental Fortaleza and its network of smallholding farmers, who put environmental sustainability at the forefront. When Silvia Barretto inherited Fazenda Ambiental Fortaleza (FAF) from her family in the early 2000s, she and her husband Marcos Croce immediately began the work of implementing sustainable agriculture practices on the farm. However, they soon realized that in order to produce high-quality coffee in harmony with nature, they would need to collaborate with the dozens of family farmers who surround Fazenda Ambiental Fortaleza and have an equal stake in protecting their shared environment.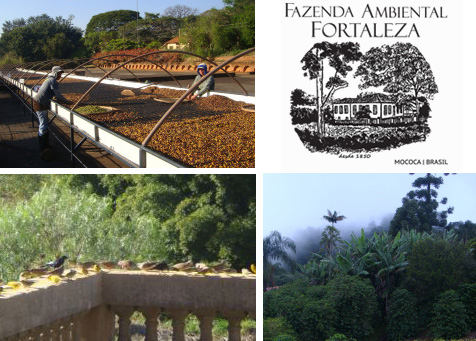 Together with their neighbors, Fazenda Ambiental Fortaleza created the Bob-O-Link network, a group of farmers who work together to preserve the quality of the natural water springs on their land, manage the soil using organic practices, and plant fruit trees for shade. These banana, mango, and avocado trees also help to sustain the habitat of the many birds and other animals that live in the Mogiana region.
One of these birds is the bobolink, a small blackbird that gives this Gold Cup coffee its name. Every year, the bobolink migrates from the northern half of the United States all the way to the southeast edge of South America, settling into the shaded canopy on Fazenda Ambiental Fortaleza and the network of Bob-O-Link farms to spend the winter. The bobolink serves as a powerful symbol of the interconnectedness of our global environment and the power of quality coffee to create a positive impact that transcends national borders.
The high value that the Bob-O-Link farmers place on environmental sustainability translates into a coffee that is meticulously grown and processed. After harvesting, the farmers use both hand-sorting and mechanical color-sorting to remove underripe cherries and other defects. This coffee from the Zani family farm is naturally processed and sun-dried on raised beds. The Zani family's painstaking work yields a bright, full-bodied coffee with notes of milk chocolate, citrus, and blackberries.
We couldn't be more excited to feature Brazil Bob-O-Link as our Gold Cup coffee this month. Brazil Bob-O-Link is available for a limited time only in our online store, at Fazenda Café, and in other select locations. We can't wait for you to try it.
Welcoming Fazenda Ambiental Fortaleza

March 17, 2014

It´s still winter here in Boston, a fact that I try to ignore during my daily bicycle commute to the Fazenda Roastery. In spite of the weather here, I find myself thinking warmer thoughts in anticipation of the coming coffee harvest. You see, in the Southern Hemisphere it´s more like fall than winter or for that matter, spring -it´s harvest time. When I opened the door at the Roastery this Monday, I was surprised to find that the first of a series of new coffees had arrived. There it was, in all its glory, a fresh pallet of a new Brazilian coffee.
What a great way to start the week. Today I will begin the long process of perfecting a roast profile for our new Brazilian, an organically grown coffee from a community of smallholder Brazilian farmers dedicated to best practices in sustainable agriculture. Some very special coffees are being produced there at the Fazenda Ambiental Fortaleza (FAF), a project which also serves as a platform for community development and empowerment. I couldn´t be more excited to have discovered this farm and this coffee...
What I have in stock from them currently is the FAF Bob-O-Link coffee, a natural process arabica featuring Catui and Mundo Novo beans which I cupped last week (for the curious, here´s a good overview of arabica varietals). We discovered this coffee through a partnership with Sofa Café, a Brazilian style café opening this year on Newbury Street that has a lot of style and that is coming to Boston straight from Sao Paulo, Brazil, where there are three other locations. They´ve asked us here at Fazenda to roast this coffee for their location, and after cupping the coffee, we couldn´t possibly be more excited to do it for them.
The Bob-O-Link is exceptionally smooth, with a creamy body and flavors reminiscent of fine chocolate. At a lighter roast profile, it has bright and vibrant characteristics that are the perfect counterpoint to its depth. The Bob-O-Link is advertised with a cupping score of 85 but I would score it slightly higher. Some other microlots from FAF were cupping as high as 88 and I fully concur after trying both the FAF 349 and FAF 322. Great coffee! And there won´t be any surprises on my end if this year´s harvest is even better, given the depth of care that goes into the use of agroecological farming methods at the Fazenda Ambienta Fortaleza.
An additional challenge for this coffee: I´m attempting to match the roast profile of Sofas´ Sao Paulo Roasters, but on different equipment and in a completely different climate. I have my work cut out for me. Surprised, though, to find that this profile is very similar to the one I use for our Colombia Full City roast at our café location, my standby morning cup of coffee. Time to get started! Look for Bob-O-Link exclusively at Sofa when it opens in a few weeks!
Melbourne - Australia

March 26, 2015
Lucas Roasting, USA

December 18, 2014
CAFEICINHO THE UNTOLD STORIES OF THE PÃO DE QUEIJO: IN THE BRAZILIAN NATURE (1/2)
Arriving to FAF... it seems like we have always been there!
The first of the visits we did, was just next to Sao Paulo (where we arrived), we visited our friends from FAF, who are located in Mococa (3 hours and a half drive from Sao Paulo) and that you might certainly know better, for their Bob-o-link coffee.
It is always a pleasure, to meet with the Croces. Their good vibes and enthusiasm, can be easily transmitted by spending a minutes with them.
We were received by Marcos and his sons, Felipe & Daniel, and headed with them to FAF (Fazenda Ambiental Fortaleza). What Marcos has done in his region, and with all of his producing partners, is admirable & respectable.
The Bob-o-link story
Arrive to FAF and visit the different farms working with them, is something, if we can say so, that offers a very different image in what concerns Brazilian coffee production. Driving over mountains, under shade farms, organic farming, honey production… you know somehow, that you're getting into something.
When Marcos & his wife, Sylvia, moved from the States after she heritate the farm, they didn't know much about farming, but they were happy with the change, and above all, had strong life convictions that wanted to adapt to their farm.
They didn't want to continue working the farm the way it was.
First, 50 families living there, they didn't want employees, they wanted partners involved on their project. They propose much more, starting from education, demanding just their engagement. As he says, some wanted, some others didn't.
Then, the production system. They were convinced about organic farming, even tough, unknown at the time at Brazil. Production, as now they know, went down (they are producing now, around 10% of what the farm used to produce.
Let's give it a name. Fazenda Fortaleza, was re baptized, as Fazenda Ambiental Fortaleza.
How can I improve my quality? Marcos traveled to Central America, to see how production was in other countries, there he saw something that wanted to apply for sure, shaded coffee farms. And here, I would say, the person that helped him the most, was Felipe, his son. Formed by an American roaster, he knew a lot about coffee, and felt that his parents were into something, and that he could still help them much more. Daniel, his brother, followed the path too. An expert with the spoon, the other with the calculator. FAF had it all, to start the path to become a farm model system.
To be complete, and reach the sustainability, they started with some other productions. Wood (used for everything, from the African beds that they use to drying the coffee, until tables in the house), bees and their honey (a perfect indicator of biodiversity), water preservation, vegetables production, milk & cheese, rural tourism (they receive visitors during the whole year).
The project was working, despite the fact that volumes of coffee were decreasing. And neighbor farms started to get interested. And that's when the Bob-o-link project started.
The Bob-o-link is a migratory bird that travels all over America, which is very touched by mono intensive agriculture, and the Croces used to live on Bob-o-link road. Everything was given, to have a name.
As he says, first thing he did was to empty the fridges of farmers wanting to join his project. You are what you eat, he says, how could he change the philosophy of someone that drinks coke instead of a juice made out of the fruits of his garden.
To become a bob-o-link farmer, they ask them to:
Start planting trees for shade, and all over the farm.
Do barriers, to preserve water.
Start decreasing the use of fertilizers & pesticides.
Install African beds & pre-sorting machines on the farms (with their financing help).
Selective harvest. Being mountain & small farms, harvest is done by hand.
They help them, to change their food habits
Interest in coffee cupping & recognition.
Have some alternative productions. It is quite common to see lots of animals on the farms, such as cows for milk products & meet, and vegetables production.
With all these, birds & bees would come. For the first, they ask respect, from the seconds, to get into honey production.
Every step is very important, Marcos says, but if there's not quality, nobody would be willing to pay more for what they do. And there's where them in a strong relation with them, work in order to improve the quality.
They form the farmers, in a way that they can improve each step of the production. And for the post-harvest selection, Felipe is the man behind, cupping every batch to know where is it going to go.
A bob-o-link coffee, needs to score 84-86, according to the SCAA scale. If it's lower, they won't consider it worthy to put the name on. If they find any outstanding "microlots", they would separate them, and sell them separately as their "special reservas".
Cupping some sweet fresh beans with Felipe
What started as a single farm project, has now over 50 farmers involved, from which (according to Marcos), 28 are completely converted into the bob-o-link philosophy.
Changing and getting so many farmers adepts, took them 10 years. Now, their wish, is to be a model of sustainable production for the country.
What we also liked about them, is something Marcos said, he liked to form every farmer as much as they can. Otherwise it would be but a man project, and you know what happens when that man is missing.
Marcos "El Cacique" of Mococa, and his dog lupa!
Before leaving, I said to Marcos what I like to say to lot of farmers we work with: we always like to work with people that are like salmons, those that always go against the flow, those that always follow the hardest path. Where would be the fun otherwise?
We are very happy to announce you, that besides continue our natural bob-o-link coffee, we would increase what we are doing! Two new bob-o-links are flying to Europe this harvest, the pulped natural bob-o-link & the yellow bob-o-link (made out exclusively from yellow varietals).
Fazenda Bela Vista
Stay tuned with us for the second part of our Brazilian chronicle: "The untold stories of the pan do queijo: you need to drive at 160 km/h through the Cerrado highways… that's what the PGI specifies!"
BOBOLINK COFFEE IS NOW SERVED IN WASHINGTON UNIVERSITY - ST LOUIS!
Many students depend on the invigorating powers of coffee to get them through their days, but most fail to consider the origins of their favorite morning drink.
Washington University's alumni base is highly involved in the coffee-growing business. Kaldi's Coffee Roasting Co., Washington University's main coffee supplier, is itself the product of one of the University's alumni, providing Dining Services exclusively with coffee grown through the efforts of University graduates.
In 2002, University alumnus Ben Weiner founded Gold Mountain Coffee Growers, a group that aims to connect Nicaraguan coffee growers with roasters in the United States. The organization's flagship coffee farm, Finca Idealista, is in Tepeyac, a remote mountaintop community in Nicaragua. Gold Mountain has ongoing projects in 10 other communities in the region.
Weiner first visited Nicaragua as part of his undergraduate study abroad experience at the University, living in Tepeyac and studying various aspects of the local economy. While there, he perceived a need to connect local coffee growers with international markets.
"I saw firsthand how [the growers] were being cheated by these middlemen who were paying them almost nothing for their coffee," Weiner said.
When Weiner arrived in Tepeyac as an undergraduate, the people of the community lived without running water and electricity, regular transportation up and down the mountain was nonexistent, and any vehicles that made the climb were prone to flat tires from the uneven road.
However, since the foundation of Gold Mountain, Weiner said, Tepeyac has changed dramatically, with growers buying solar panels to provide electricity to the community and buses to transport coffee.
"The changes that we've seen are day and night," Weiner said.
In addition to economic empowerment, Weiner has made gender equality one of the primary focuses of Gold Mountain's mission. Gold Mountain offers free computing classes for girls who live in the coffee-producing communities, and its employees sometimes take young girls from the communities to visit nearby universities.
"The idea is to whet their appetite for higher education," Weiner said, "to get them excited about studying and to make sure their grades are good enough for them to go to college."
Weiner also emphasized that Gold Mountain encourages farmers to leave a certain percentage of farmland as wild rainforest to protect community water supply and biodiversity.
"You can literally see that it is hotter where there has been deforestation," he said. "Where there are trees next door, there's natural [air conditioning] for the coffee, which results in beans taking longer to mature so that they more absorb natural sugars, making the coffee sweeter."
Zachary Latimore, a recent Washington University graduate, is preparing for an extended stay in Nicaragua, where he plans to work with Gold Mountain Coffee Growers during the harvest process. In anticipation of the trip, he has been learning about the system behind getting the bean to the cup.
"It's a pretty wide world, and there's a lot more that goes into it than I think a lot of people realize, and certainly more than I ever realized," Latimore said.
Weiner hopes to get more students like Latimore to travel to Nicaragua and work at Finca Idealista, especially during the harvest season from October to April. Latimore will be the first student from the University to work at Finca Idealista, whose labor force more than quadruples in size during the harvest season.
"During coffee harvest, it's all hands on deck," Weiner said. "We're happy to have students go down if they speak 100-percent fluent Spanish and are very hands-on."
However, Gold Mountain is not the only coffee-growing business with University ties.
Felipe Croce, another Washington University graduate, has spent much of his time since 2007 revitalizing and reinventing his mother's coffee farm in Brazil, which has been handed down in the family since 1850.
He first became interested after his time with the University's Praxis program.
"One of the things that I think is really cool about this project," Croce said, "and what really attracted me to the coffee industry when I first got into it was that it's…an industry where there's traceability and there's a certain interest in where things come from, how they're grown, what's the story."
After familiarizing himself with the roasting process through an internship with Kaldi's Coffee, he headed for Brazil, which did not have a reputation for good coffee at the time.
"Good coffees weren't getting to [roasters], so they just assumed that Brazilian coffees were boring, just average," Croce said.
He implemented several changes in his farm's growing techniques, aiming to improve the quality of his coffee.
"First, I had no idea what I was doing. I was trying to do everything. I kind of turned into a cowboy. I was herding cattle. I was trying to do all this stuff, and then I decided to specialize in just the coffee and downsize a little bit," he said.
While downsizing, he also set aside 33 percent of the farm's land for reforestation. Croce's family is working to make the farm and others around it organic and added Ambiental, or "environmental," to the name Fazenda Ambiental Fortaleza (Environmental Fortress Farm) in 2001.
Croce and FAF work closely with local farmers, helping them develop their coffee and trying to earn a reputation for Brazilian coffee.
"I use my mom's farm and several of the farms we work with as laboratories to study the recipes, to study what tastes best and get that feedback, so [we're] constantly trying to innovate," Croce said.
So far, Croce said he has seen numerous successes in getting his product into the specialty coffee market.
"We've been able to get our coffees in Noma it's the best restaurant in the world in Copenhagen in roasteries like Kaldi's. Tim Wendelboe in Norway, who's considered the best coffee guy in the world he's come every single year and is roasting our coffees. So I've been really lucky in that I've gotten in the graces of these top coffee people," Croce said.
Croce attributed the farm's success to the diverse skills of his family members, who are experienced in finance and speak both English and Portuguese.
Frank McGinty, Kaldi's director of marketing, was impressed by the impact Croce and Weiner are having on growers.
"After seeing it firsthand, being there and experiencing it, it's pretty mind-blowing that coffee can get from this little town in southern Colombia to a cup of coffee in Cherry Tree…It's incredible. With coffee, these guys are living off of nothing, and that's where…people like Ben [Weiner] and Felipe [Croce] are helping people make a career out of it and helping recruit other people to realize it is something that can be sustainable," he said.
McGinty added that Kaldi's pays nearly double the fair-trade rate for the Nicaraguan coffee, helping the farms purchase better equipment and improve the quality of their product.
Paul Schimmele, Dining Services manager, expressed his excitement for working with alumni like Croce and Weiner.
"We have a lot of alums who have great stories to tell, whether we're in business with them or not. It's just fun to be able to do business with alums," Schimmele said.
Freshman Nate Rickard said he prefers the Kaldi's coffee served on campus to other coffee he has tried, such as Starbucks.
"I think Wash. U.'s coffee is pretty quality. It's better than I expected it to be. I prefer Wash. U. coffee to the coffee I make in my room," Rickard said.
First-year graduate student Aura Ferreiro also appreciated the quality of the University's coffee.
"I like coffee in general because it helps me function, but Wash. U.'s coffee is pretty good," Ferreiro said.
Although Kaldi's pays above the fair-trade rate for coffee, Ferreiro added that she feels the University's coffee is reasonably priced.
CLOUD PICKER COFFEE - IRELAND
Single Origin Coffee

Bob-O-Link (Honeyed) - Brazil From Eur8.00
Bob-O-Link (Natural) - Brazil From Eur8.00
Decaf - Mexico From Eur8.00
Dom Jimenez - Dominican Republic From Eur8.00
Shara - Rwanda From Eur8.00 Shop
BELCO COFFEES at the 2014 SCAE in Rimini, Italy
LA BOHEME CAFE
Původní název Bob-o-link pochází od názvu migrujících pěvců (bobolink kanadský (Dolichonyx oryzivoru)), kteří létají ze Severní Ameriky do Jížní Ameriky (až na jih Argentiny!). Biodiverzita je pro zpracovatele FAF, jichž součástí je i farma Ambiental Fortaleza velmi důležitá. FAF vytváří pro tyto ptáky místa, na kterých se během své cesty mohou zastavit na rozdíl od farem vytvářející ohromná pole monokultur, která napomáhají jejich vyhubení.

Plná a komplexní chuť s minimální kyselostí a dlouhotrvající intenzivní dochutí. Káva ideální pro jednodruhové espresso.

Lískové ořechy, burské ořechy a sušené ovoce.
PREMIÈRE TORRÉFACTION ET PREMIÈRES LIVRAISONS
par Vincenzo Ruggiero

Le samedi 15 mars 2014 est à marquer d'une pierre blanche pour Javry, ou plutôt d'un grain brun ;) Après une nuit quasi blanche nous avons effectué la première torréfaction. Le premier café que nous allions bientôt proposer à nos clients. Un moment stressant mais très excitant pour notre petite entreprise.
9h00 du matin, en route pour Bièvre dans les Ardennes. 1 heure de route et beaucoup de questions et d'interrogations sur le trajet: "Et si nous nous étions trompé de café ?", "Et si ce n'était finalement pas un bon choix ?", "Et si le torréfacteur brûle notre café ?", "Et si nous n'arrivons pas à emballer le café dans nos emballage spéciaux ?", Et si, et si ... Bref, beaucoup de questions et d'interrogations. Mais bon, ça doit être assez normal pour une première.
Première découverte en arrivant dans l'atelier: le sac contenant le café (nous n'avions pas encore vu les sacs). Un Bob O Link du Brésil. Bob O Link est le joli nom d'un oiseau du Brésil, le Goglu commun. On retrouve donc cet oiseau sur le sac en toile de jute:
A l'ouverture, le café vert dégage une merveilleuse odeur d'herbe fraîche:
Pas le temps de trop réfléchir, Miguel le torréfacteur prend les choses en main. Il envoie 36 Kg de café vert dans un gros aspirateur qui envoie le tout dans le torréfacteur. Les grains y sont torréfiés pendant +/- 15 minutes. Nous avons réalisé une petite vidéo des derniers instants de la torréfaction, lorsque Miguel choisi le moment idéal pour stopper la cuisson des grains:
Après cela, séance "pesage/emballage/mise sous vide" de tout ce café:
Nous avons ensuite passer plusieurs heures à coller des étiquettes. Sur les sacs de café, les adresses sur les enveloppes, ...
Le résultat, nos premiers colis sont prêts à être livrés
COFFEE SUPREME
Coffee Supreme We have fresh stock of our coffee soda syrup heading out to all locations.
This time we have used Brazil Bobo-Link. Bottle avaliable from tomorrow.
AUGIES COFFEE
BrÉsil - Blend Bob-o-Link - Terroirs de Mococa - Ferme Ambiantal Fortaleza
Son nom est tiré de l'oiseau migrateur volant depuis l'Amérique du Nord jusqu'au Sud de l'Argentine. Le blend Bob-o-Link est un café brésilien de haute altitude. La plantation Fazenda Ambiental Fortaleza a été créée par la famille Baretto en 1850, qui dirige toujours aujourd'hui la ferme du terroir de Mococa.
Les caféiers sont cultivés entre 1000 et 1400 mètres d´altitude au coeur des montagnes Mogiana dans le Sud du Brésil puis les grains sont cueillis, triés à la main et séchés naturellement.
Les variétés de cet arabica donnent à ce mélange des notes subtiles de chocolat, d'amande et de praline.
BOB-O-LINK AND SILVIA

Silvia releases a female Bobolink in the fields of Shelburne Farms, Vermont. The University of Vermont is tagging the Bobolinks to study their roots to South America.

AND THE BOB-O-LINK KEEPS FLYING!
"Blackbird singing in the dead of night Take these broken wings and learn to fly All your life You were only waiting for this moment to arise"
The Beatles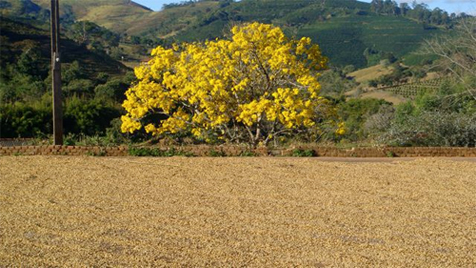 It was more than a year ago that we were having a meeting with some Brazilian producers at Vienna's coffee show. Very particular guys. They were talking about specialty coffee, under shade production, drying on African beds and also… about a bird. About a bird called Bob-o-link. Their coffee's name, actually.
Intrigued, we were; coffee we cupped, and convinced we were for starting this adventure of making this coffee "fly" to France & Europe.
After a first year offering this coffee and, above all, after seeing how receptive roasters were to it, we are very happy to announce that the Bob-o-link is flying back again to Europe !
So stay tuned, we will let you know as soon as it lands!
More about the Bob-o-link coffee:

Fazenda Ambiental Fortaleza (FAF) & Bob-o-link coffee
Click here to read this article in French
Click here to view the original article
Green and Roasted Coffee
Larrea 493 | 1708 | Moron, Buenos Aires, Argentina | Tel. (54) 11 4628 1681
BOBOLINKS
SCAE SHOW - JUNE 2013 - BELCO BOOTH
BOBOLINKS NESTING
Here are a few of the bobolinks that are nesting on our next door island. They were good enough to investigate why I was in there field, letting me take some shots to send home to Brazil for you! I wonder where these particular birds go?
-Paul Gebhardt
L'EXCEPTION BRÉSILIENNE AU COEUR DE VOTRE TASSE...
La plantation Fazenda Ambiental Fortaleza "FAF" a été créée en 1850 par la famille Baretto. La passion du café a su traverser les générations puisque la ferme est tenue aujourd'hui par la Silvia Baretto et son mari Marcos Croce, descendants directes des créateurs
CAFE
Farms get incentives to protect bobolinks
Posted on May 2, 2013 | Vermont ag Featured UVM
By Xian Chiang-Waren

ADDISON COUNTY — Spring has finally arrived, and across the region wildlife species are returning to their seasonal habitats, including flocks of migratory birds. But while there may seem to be an abundance of chirping birds returning to the area, the populations of Vermont's seven grassland songbird species have, in fact, plummeted in recent years.
This year, an innovative project at the University of Vermont aims to restore habitat for one of those specie: bobolinks.
Going the extra green MILE
When Melissa Floreani says her business is sustainable, she means it. "It's a principle that really goes through our whole business. It's not just about the type of coffee we purchase but the warehouse environment as well," she says.
Located in Melbourne's south-east, Melissa says that every decision at Espresso Syndicate is made with a consideration of sustainability. The doors are reused, the office space is made with recycled timber furnishings and eco-ply, and the walls are painted with low Volatile Organic Compounds.
From day one, when Melissa and environmentalist partner Ben Spruzen started Espresso Syndicate in 2009, they always had in mind the sustainable impact they wanted to achieve as a company. "My understanding of being sustainable in the coffee industry was to be much more in depth than simply buying organic or Fair Trade coffee," says Melissa. "There are lots of things you have to do behind the scenes as well to create a truly sustainable business, such as sourcing biodegradable cups, lids and packaging material."
The Bob-o-link now flies to Europe!
It seems like Saint-Nicholas has been more than generous with us this year: we have just received some wonderful coffees from Brazil today!
Few months ago, we had the pleasure to meet Marcos, Felipe & Daniel Croce from FAF (Fazenda Ambiental Fortaleza), and from that moment, we started to build the idea of bringing to Europe their wonderful coffee (or project, as it is much more than just coffee I need to precise).
What does FAF do and why are they so different to Brazilian coffees?
Before the coffee culture, which is already very particular, being a Brazilian coffee: cultivated under shade, in altitude, handpicked, rise in African beds… they also created an environmental and social project, including their farm and those of their farmer's neighbors.
Don't hesitate in contacting us, if you might want to try this great coffee!
The Bob-o-Links are migratory birds, which fly every year from the Midwest of North America to the Southeast of South America… and which perhaps would rather stop doing it, due to current vast monoculture productions…
12 Days Till Christmas
Review: Bob-o-link Coffee
I first heard about Bob-o-link Coffee on a local birding listserv. My first thought was, "Why would anyone use a grassland bird species to represent coffee?" The answer is sort of a practical one: the owners have an Illinois home on Bob-o-link Road. This is the birthday that keeps on going. Jennica planned a brunch with family this morning which was great, and friends have now arrived for a surprise party I didn't know was happening.
Click here to read more >>
A Birthday Cake!
August 26, 2012

This is the birthday that keeps on going. Jennica planned a brunch with family this morning which was great, and friends have now arrived for a surprise party I didn't know was happening. The most AMAZING part of the evening is the cake created by Custom Cakes by Sharon and completely honoring the direct-trade coffee relationship with our friends of the Brazil Bobolink project. I'm blown away!!! BLOWN AWAY!!!

Troy Lucas
bob-o-link coffee
JimdoTV # 3 - In the coffee roaster