Click on the thumbnail to
open PDF file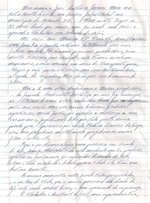 Farm:
Sitio Santa Lucia
Altitude:
1100 to 1200 meters
Varieties:
Bourbon, Catuai, Mundo Novo
My name is Josť Atonio Faconi, I live in Sitio Santa Lucia in Caconde, Sao Paulo. I have lived in this place for 33 years, where I was born, where I learned to work in the coffee fields.
I married Monica A.P Rossetto. We have built a family together and are working hard to create a better tomorrow. Because we are a small farm, we do not have any machinery; nor, mode of transportation for our coffee, but we count on our neighbors and thanks to this we continue to plant coffee.
Two years ago we met Marcos from Fazenda Ambiental Fortaleza who has made us look at things in a new light. For example, before we used agro-toxic chemicals in large quantities that affected the land, the animals and us. We used to throw trash wherever without stopping to think what would happen over time and how this would affect our sons and grandsons. After we started our partnership in selling our coffee with Marcos, everything has begun to change. The strong agro-toxic chemicals have been forgotten, the trash is being separated and taken to the city where it is dealt with correctly. All of our springs are being protected and best of all our partnership in selling our coffee is going very well and filling us with hope!
The work is very difficult but we hope that we will have results from this. In order to get these results its essential to harvest the coffee at the right time, dry it in the correct manner, and most of all have the utmost care for the fruit. Our work does not end here; however, we intend to work much harder to receive a better price so that we can buy new equipment that will facilitate our lives in the field and continue to increase the quality of our coffee. Coffee is where we make our sustenance and we count on coffee for everything.
As I end here, these have been the words of a small family farmer, whom is full of hope and the will to work, who continues to work hard everyday with his family for a better future!
Josť Antonio Faconi, Monica Ap. Rossetto, Marcos Vinicios Faconi and Leticia Cristina Faconi