We produce coffee on our 10-hectare farm at an altitude that ranges from 1200 to 1340 meters above sea level. The varieties we produce are Catuai, Mundo Novo, Sumatra, and Bourbon.
Our production was traditionally commodity and our goal was always to produce as much quantity as possible while using various agro-toxic chemicals. We did not respect Mother Nature nor the quality of the coffee. In recent years this system of commodity coffee had ceased to be sustainable for us.
In 2006 Marcos from Fazenda Ambiental Fortaleza invited our family (Joao Hamilton an Ivan) to take part in a new sustainable method in producing coffee. The objective became to achieve the highest quality while simultaneously respecting nature, reforesting the area around our springs, recycling our trash, refraining from utilizing toxic fertilizers and herbicides giving the practice of cultivating coffee a new inspiration and hope.
Click on the thumbnail to
open PDF file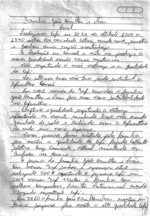 Our family adopted new processes in order to improve the quality of our coffee. We began to harvest selectively for the ripest cherries, to do semi-washed pulped cherries, and working with more carefulness on the drying patio. The new partnership between the Joao Hamilton and Ivan family with Marcos (FAF) is allowing for dreams and hopes to be realized. We exported for the first time our coffees in 2008 and in 2009 Marcos brought several important buyers and International Baristas to see our farm.
In 2010 we have invested in building raised beds for the further development of higher quality coffees.