Click on the thumbnail to
open PDF file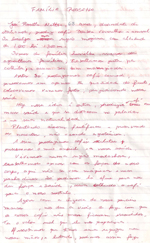 Altitude :
1000 to 1300 meters
Varieties :
Yellow and Red Bourbon
We are the Rossetto family, Italian descendants, and we plant coffee in the Mountain Mogiana region of Brazil. We come from a humble family and we live off of our farm. When it comes time for the harvest we all work together. In the past we only produced commodity coffee. We thought only on increasing production and we put strong chemicals that affected our health.Today our goal is to produce coffee in a healthier manner, which pleases the palate and nature. We are planting fruit trees, protecting our springs, and ceasing the use of agro-toxic chemicals. This way we can produce excellent coffees while preserving nature and our health. We live in a mountainous region and we work only with the strength of our bodies since the terrain does not allow for machines. We ask God that he gives us strength and health, so that we can continue to harvest our coffee. Now with the arrival of our partner Marcos, he's given us the vision to produce, the assistance so that our coffees are no longer hidden and given the value that its worth.
We discovered, that we have a richness on our hands and fighting we can make the best coffee in the world. We have discovered we have a richness in our hands and working hard we can produce one of the best coffees in the world! Working with FAF we are looking for a better finishing of our coffees and to improve our quality. Increasing export and finding new fans to offer a great drink for the mornings!
José RossettoNetto