Click on the thumbnail to
open PDF file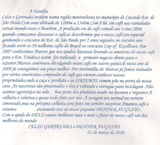 Celso and Gertrudes reside in the mountainous region in the district of Caconde, which is in the state of Sao Paulo. At an altitude of 1200 to 1340 meters above sea level we farm eight hectares of coffee. The varieties of the plant we cultivate are Catuai, Mundo Novo, and Bourbon.
Our methods of production were for commodity purposes until 2006 when we began to pulp our coffee after harvesting. We then discovered that our coffee was truly special and went on to win the specialty coffee contest for the state of Sao Paulo two years in a row. In the third year we placed amongst the 50 best coffees of Brazil in the Cup of Excellence.
In 2007 we met Marcos who helped us in taking samples of our coffee to the United States, and thus, we realized our first ever direct-trade sale outside of Brazil. Marcos has continued to take our coffees to other countries and to tell our story and this year (2009) we have been able to receive better prices. Through the work of Marcos various coffee buyers have visited us from different countries coming to see our farm; where poaching is illegal and the Siriemas (Big Brazilian bird with long legs) come to feed on bread at our doorsteps! On our farm the springs are protected and the garbage is selectively separated and taken to recycling depots.
We do not use agro-toxic chemicals in our soil and most of the products we use are organic. Our harvests are done completely by hand selectively and almost all done by our own family. Our drying process has traditionally been on cement patios but beginning with this upcoming year it will be done on raised beds. We love coffee and we are teaching this to our little DENNER AUGUSTO! With the help of GOD we will continue to improve the quality of our coffee and make it one of the best in the world! Celso, Gertrudes, and Denner Augusto