Click on the thumbnail to
open PDF file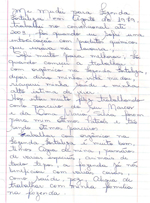 Farm:
Fazenda Ambiental Fortaleza
Altitude:
900-1000 meters
Area:
10 hectares
Varieties:
Mundo Novo, Catuai Amarelo, Catuai Vermelho, Ubata
I moved to Fazenda Fortaleza in August of 1979. I worked with conventional coffee up until 2003, when I suffered intoxication with the chemical products in which we used to spray in the fields. I suffered a great deal before I was able to get better. Around the same time was when Silvia and Marcos changed the name of the farm to Fazenda 'Ambiental' Fortaleza and switched to producing only organic coffee. After this my life began to change, I was able to recover my health and my self-esteem.
Today I am happy working as a partner with Marcos and Maria Silvia; they were for me great bosses and now are great partners. Working with organic methods at FAF is really good, we have fresh clean water from the springs, birds from various species, all kinds of animals. The farm has already given us many things like health and happiness to work with my family on the farm.
In all, there is nothing better than to work happily and to like what we do. Today I try to pass on everything I have learned to my daughters and to all that are interested in learning about organic coffee.
Alcindo Françisco Prado